Glamping Under the Stars
Some people chase the challenge of leaving the comfortable amenities that we have grown accustomed to. When camping people need the necessities, shelter, food and water, there leaves little room for other items of comfort for a trip to nature. If this doesn't sound like your ideal vacation, fear not.
Glamping, short for glamourous camping, has grown in popularity over the last decade. Glamping includes any amenities that you wouldn't have in a general camping trip. This can be running water, a toilet, or a real mattress. The Flying Ham Camper Rentals takes a favorite American pastime and makes it a luxury hotel in the setting you choose.
Why are you glamping?
The tents and campers are perfect for birthday parties, events or festivals.
Where are you glamping?
Are you looking to get out of the city in front of a stream and away from society or maybe 10 steps from your house in your backyard. The Flying Ham will go anywhere within a 30-mile radius of Nashville. They will bring everything you need to the location of your choosing.
What is included in the glamping?
If you are renting the camper, you will receive a bed with your choice of either linens or sleeping bags, air conditioning, a shower, towels, pillows, kitchen, cookware, utensils, cups, plates, bowls, and a coffee maker!
If you are renting the glamping tents, you will receive cots, bed linens or sleeping bags, and pillows for 4 or 6 people, indoor and outdoor rugs, a twinkle light chandelier for inside the tent, vintage style lantern and radio, and party lights with greenery for outside the tent door. You can't forget the air conditioner or heater with a generator.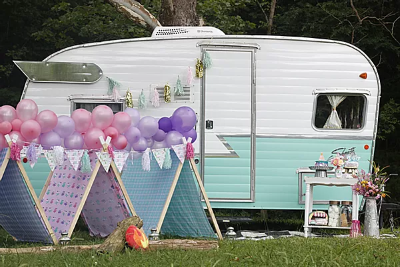 How to Throw a Party with the Flying Ham
Camping is peaceful, glamping is a party. The Flying Ham is perfect for birthday parties! They offer custom-designed tents to the theme of your party, adding a projector screen for a movie night, or a vintage tea party with classic china.
They have even thought of the kids. The Flying Ham partnered with Let it B Love, an event + styling company that specializes in kids' luxury parties. Featuring "The Flying Ham" retro campers, "Sugar Drop" delicious custom treats, and "Let it B Love" luxury tents, children as able to choose between an outdoor celebration with custom daytime tents, to sleeping in the camper, or our indoor luxury teepees for the ultimate sleepover.
Join us at The Nashville Home Show to learn more about The Flying Ham glamping and Let it B Love event styling from September 10-12 at Music City Center.
Buy your tickets today
and save $2!
Aug 23, 2021, 16:00 PM